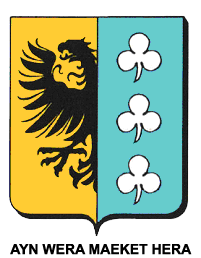 This is the Kuipers family shield. The description reads: Partitioned with a black Frisian eagle on gold background at the left and three silver clover leafs above one another on a blue background on the right. The inscription is in Frisian and reads AYN WERA MAEKET HERA (loosely translated meaning your own property makes you king). It was first described in the estate of Dirck Thomasz Cuiper (Kuipers genealogy inscription number 111).
Oostermeer
Our family first emerges from the fog of history in a little town called Oostermeer in the Friesland province of northern Holland, about sixteen kilometres east of the regional capital Leeuwarden. Oostermeer lies between the Bergumer and De Leijen lakes. There is a waterway about one and a half kilometre long connecting the two lakes and the town lies at the point where the main east-west regional road crosses the waterway.
By about 4000 BC nomadic people already occupied the land around Oostermeer. The archaeological remains are known as the Leien-Warten complex. Other excavations in the area have turned up mammoth bones as well as golden rings. These remains can today be studied at the Burgum regional museum. It is not known when the first permanent settlement was established at the Bergumer lakeshore, but the first stone church was built at It Heechsân around 1200 AD. By the middle ages there were already numerous farms established around the church.
From 1500 AD to about 1750 AD people were actively cutting and removing peat moss from the low lying swampy areas. The area has been substantially impacted by these activities and the De Leijen Lake sprang up in the area most heavily mined. After the peat moss business died out in the middle of the eighteenth century the people in the area reverted back to their traditional farming practices.
The western part of the town is called De Wal and that is where most of the people working the peat moss bogs lived. Today this is the main industrial area of Oostermeer where commerce and shipping play a very big role.
The gentle art of giving names to your children
In our modern world people are organized in various ways that make life easier for the governing classes. One such way is that every person has a name and nowadays most people have one or more first names as well as a last name that at least identifies the family unit the person belongs to. In the times long ago when towns were small and everybody knew everybody else people did not need last names. Even then, however, the most common names appeared more then once in the same town and people needed an additional way to identify the exact person under discussion. Two ways of further identification were widely used in Friesland until the early nineteenth century when Napoleon made it mandatory for people to use last names as part of their identifying characteristics. Before the introduction of last names it was quite common to combine your first name with you father's first name as a way of identifying yourself. If your name is Jan, your father's name is Willem and your son's name is Piet, then you will be known as Jan Willems (meaning Jan, son of Wilem) and your son will be called Piet Jans (Piet, son of Jan). This is called the patronymic system of name giving. This can make life pretty difficult for researchers, especially if your family has the habit of passing the names from grandfather to grandson (grandfather is called Jan Willems, dad is called Willem Jans, son is called Jan Willems and so on). No wonder it drove Napoleon to distraction.
As we said the first person in our family line turned up in Oostermeer. Outger Dircks was a peat moss "farmer" who lived in Oostermeer. His birth date is not known but he married one Houck Harts around 1590. Outger died in 1616 and we only know that Houck was still alive in 1610. The name Outger Dircks technically means "the eldest son of Dirck". Outger was sometimes used as a name and other times as an appellation. We don't know what the case was here.
Outger Dircks and Houck Harts had a son named Dirk Outgers. This makes it clear that his grandfather's name was Dirk and his dad's Outger. Note that the spelling has changed here. This is quite common in the era before standardized spelling. Dirck Outgers' name next turns up in the records when he married Antke Pytters in Oostermeer in 1614. By the time of the October 1625 census Dirk was already dead but not before he was blessed with two children.
Dirk Outgers and his properties
Records show that the son of Dirk Outgers lived in the De Wal suburb of Oostermeer which makes sense since that was where the peat moss workers lived. Contemporary documents imply that only the lowly workers lived in De Wal while the actual peat bog owners lived higher up in the healthy air.
However, two interesting land sale transactions turned up showing that the "widow and children of Dirck Outgers" sold, starting in 1638, various pieces of peat bog that presumably used to belong to him. From that it seems that Dirk must have been a wealthy man and property owner unless there lived another Dirk Outgers in Oostermeer at the time. This possibility cannot be ruled out.
Dirk Outgers and Antke Pytters had a son named Thomas Dirks. We assume this to be the same Thomas Dircks that was baptised as an adult (very unusual at the time) in Oostermeer on March 20, 1642. He was married to Taetske Melles and lived with his family at De Wal. In his baptismal form his father's name is written as Dirck Outkers but this can be seen as identical to Dirk Outgers. Thomas Dirks and Taetske Melles had a son (Dirck Thomasz) that moved from Oostermeer to Buitenpost and established himself there as a property owner and wood worker.
Buitenpost
About twelve kilometres north-west of Oostermeer is the town of Buitenpost. This town is quite a bit bigger than Oostermeer and better known for its wood working and genteel society. The son of the peat moss digger will re-establish himself in this new town that will also give birth to our family name.
Dirck Thomasz arrived in Buitenpost in 1685 and set himself up as a wood merchant and became involved in the church and society. He married Lutske Willems on May 24, 1685 so it can be assumed that she was the magnet pulling the young Dirck to Buitenpost. He died in Buitenpost on February 3, 1720.
In the local tongue a wood merchant or wood worker is called a "cuiper", same as the English "cooper". People therefore started calling him Dirck Thomasz Cuiper, meaning "Dirck, son of Thomas, wood merchant".
The gentle art of giving names to yourself
It started becoming very common to attach a person's profession to his names so that everyone knew who you're talking about. This way the name Cuiper got attached to our ancestors. When it became law to have on official last name this unofficial appendage was simply turned into the official one. Over time the spelling has also changed and became standardised to the now commonly used Kuipers.
By early 1722 the grandson of Dirck Thomasz became the first one to carry the full Kuipers last name. Dirk Willems Kuipers was born on January 16, 1722 and took over the reigns of the by now well-established wood working business. The Willems part of his name is picked up from his mother's father, a practise that will become more and more prevalent as time goes on. In 1747 he married Antje Halbes which will give rise to another well-know name in the Kuipers family line. They had a son Halbe Dirks Kuipers, Halbe as his maternal grandfather's name and Dirks from his dad (still with the patronymic system). Halbe soon becomes Halbo and as such appears in our family tree to this day.
By this time there were already in common use three family names that proved very valuable in tracing the family roots. First names Dirk and Halbo became common threads and the family name Kuipers has now been established. Every generation now follows one another in the comfort of the family business in Buitenpost, merchandising wood products and services while playing important roles in church and society. This line is still being carried forward in Buitenpost to this day.
The Wanderers
The comfortable line of succession in Buitenpost was broken with Halbe Dirks Kuipers. Halbe was born in Buitenpost in 1752 and married Geertruida ten Oever in 1783 in Hornhuizen. Halbe (also called Halbo) decided to strike out and become a pastor rather than a wood worker. Since pastors are called to serve by different churches they get to move around a lot. Halbo served in Hornhuizen, Gorredijk, Hardegarijp and Leeuwarden. Although he has thoroughly shaken the dust of Buitenpost off his feet he still returned there to die in 1828. Geertruida's dad was Conradus Woldendorp and from him we get another one of that family name, Conradus.
Halbe Dirks and Geertruida had a son Conradus Albertus Kuipers that was born in Gorredijk in 1785 and who also became a pastor like his father. It is unclear where the name Albertus was derived from but it has also become well-established in the family. He first married Maria Dorothea Louisa Schroeder and later Trijntje Binksma. At the same time he started following the church callings to Burum, Boxum and Leeuwarden. He had four daughters with Maria and two sons with Trijntje, one of them being Halbo Kuipers and the other Albertus Conradus Kuipers.
Halbo Kuipers was born in Boxum in 1832 and studied law, first in Groningen and then in Leiden. He left for South Africa in 1861. He may not have inherited his father's piety but he was ready to travel beyond his comfort zone. He also became the founding father of the Kuipers family in South Africa.
Halbo Kuipers
Halbo was the founding father of the Kuipers family in South Africa. He arrived in the country around 1868. His first child was baptized in Pretoria where the baptismal record indicates that Halbo was from Boxun, apparently a misspelling of the name Boxum in Friesland.
Halbo was a very controversial character and was most likely already a qualified lawyer by the time he arrived in South Africa. Halbo started working as a magistrate's clerk in Pretoria. On August 21, 1869 a letter was handed in at the government offices to recommend that Halbo be employed as representative of the Master of the Supreme Court in the Waterberg district. A day later another letter asked for his honourable discharge as a magistrate's clerk. We found a letter signed by President Pretorius dated January 5, 1870 that confirmed Halbo in the role of public prosecutor in Nylstroom. It nevertheless took him until August to get his discharge as a magistrate's clerk before he could move to Nylstroom as the new public prosecutor and representative of the Supreme Court.
In 1871 we get the idea that there were many problems in the Waterberg district. On January 18 magistrate Van Nispen filed a complaint against Halbo for libel. Halbo apparently said he will take over Van Nispen's job since the magistrate was not intelligent enough to be doing his job, that he cheated people and that he was a drunkard. Relations between the two seemed to improve after this since in late 1872 Van Nispen signed Halbo's appointment as magistrate's clerk, public prosecutor, postmaster and sheriff of Nylstroom. Halbo wrote a few letters of complaint, mostly about limitations to his responsibilities and his salary which he constantly felt was not enough to support him and his family. Later there was also a criminal charge entered against Halbo for apparently attacking one Herschenshan who stole something from Halbo. Halbo in turn charged Herschenshan with theft. Halbo apparently committed suicide not long after this.
Halbo had five children. Very little is known of his first three children. Magrieta Jacoba Kuipers was born in 1872. She was but two years old when her father died. She married Jacobus Johannes Potgieter who became famous for his actions during the Second Boer War as well as for his autobiography that he started during his stay in the Pietersburg concentration camp. His first-hand description of life in these camps still makes riveting reading today.
Halbo's wife, Magrietha Jacoba was pregnant when he died. His son (also called Halbo) was born on May 4, 1875. This son also looked for a future in the law and later became private secretary to the State Secretary Reitz. He was married to Anna Wilhelmina Pretorius who was from the very well-known Boer family that led a number of migrations away from the Cape colony early in the nineteenth century. Halbo II had seven children, one of them being my own father.